Our chapter is involved in various community projects that support the objectives of the DAR. View the following slide shows to see the fun from some of our recent activities and events!
2019 Activities
2019 Boo at the Woo – Our chapter is proud to help support our local Las Animas Veterans Council and Fort Wooton Memorial Square. Today they started their annual "Boo at the Woo" & we are honored to decorate for it too!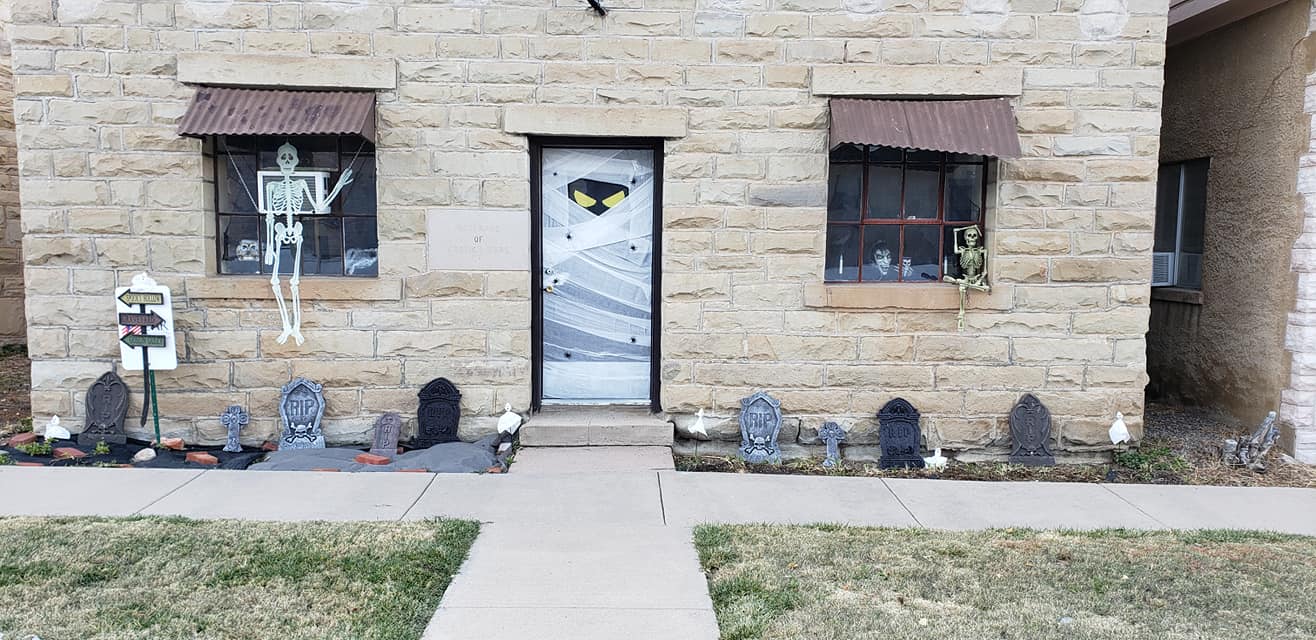 2019 Constitution Week Activities
Vistors to display take flags, brochures and say they enjoyed reading Constitution Facts.
Constitution Week Display
Event Chair, Patty Kinder, Setups up display in Courthouse Lobby.
2019 Korean Ambassador Peace Medal Ceremony held on June 15, 2019 at Trinidad State College.
2019 Fort Wootton
Wonderful volunteers make connections of WIFI Service from LACVC Administration Building, across Memorial Square accessing to and into DAR Meeting Room wall, onto our WIFI modem… Success! Works GREAT, and now ready for Opening Day in August, for all our meeting's Programs.
Team: John Sanders, Rick Kinder & Walter Parsons.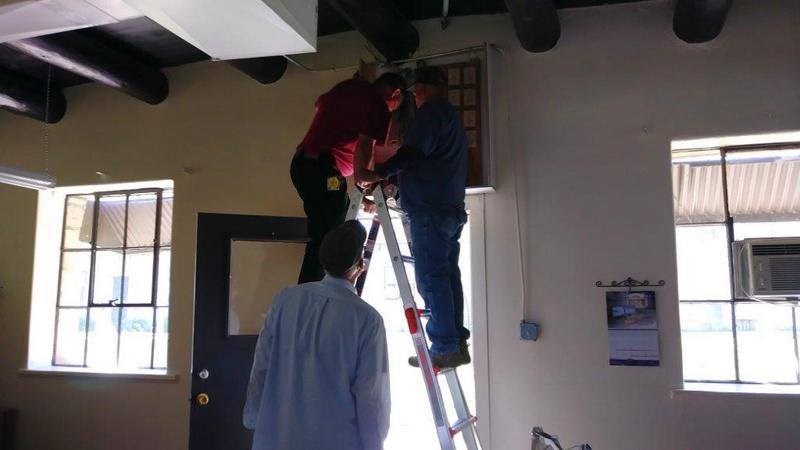 Final connections inside the DAR room to be run to our wifi modem for operations. It works Beautifully. Thanks fellas for all your expertise!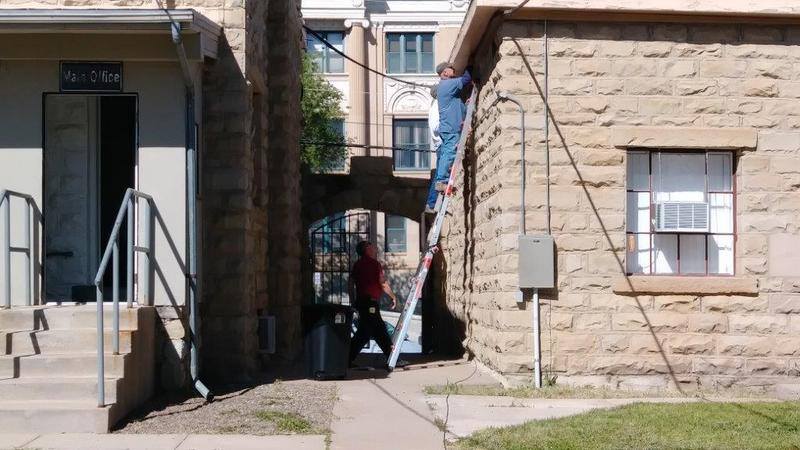 Rick, HODAR, begins the cable run across to DAR room.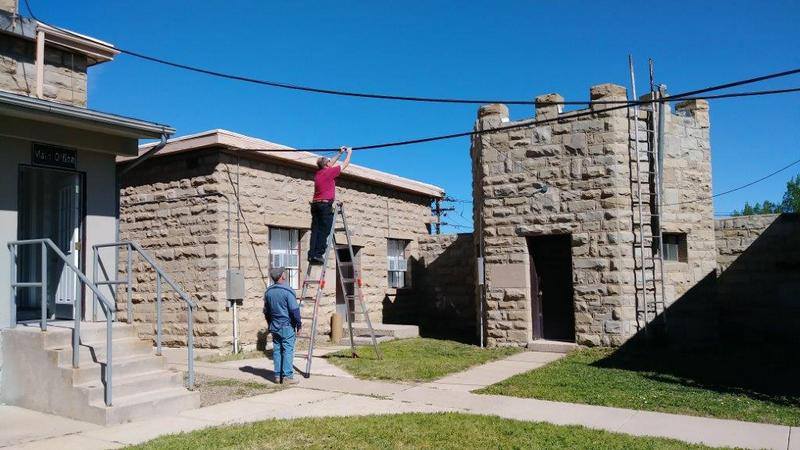 John, Rick clipping cable to outside wiring onto our new meeting room.
John, our internet guru, prepares connecting cable.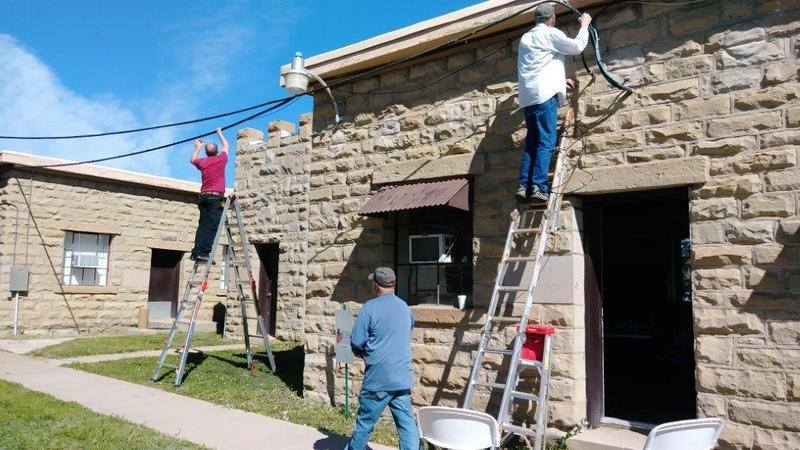 Cable is nearing DAR room, with Walter preparing "entrance port" into our DAR Meeting room at Fort Wootton Memorial Square
2019 Armed Forces Day Parade & Picnic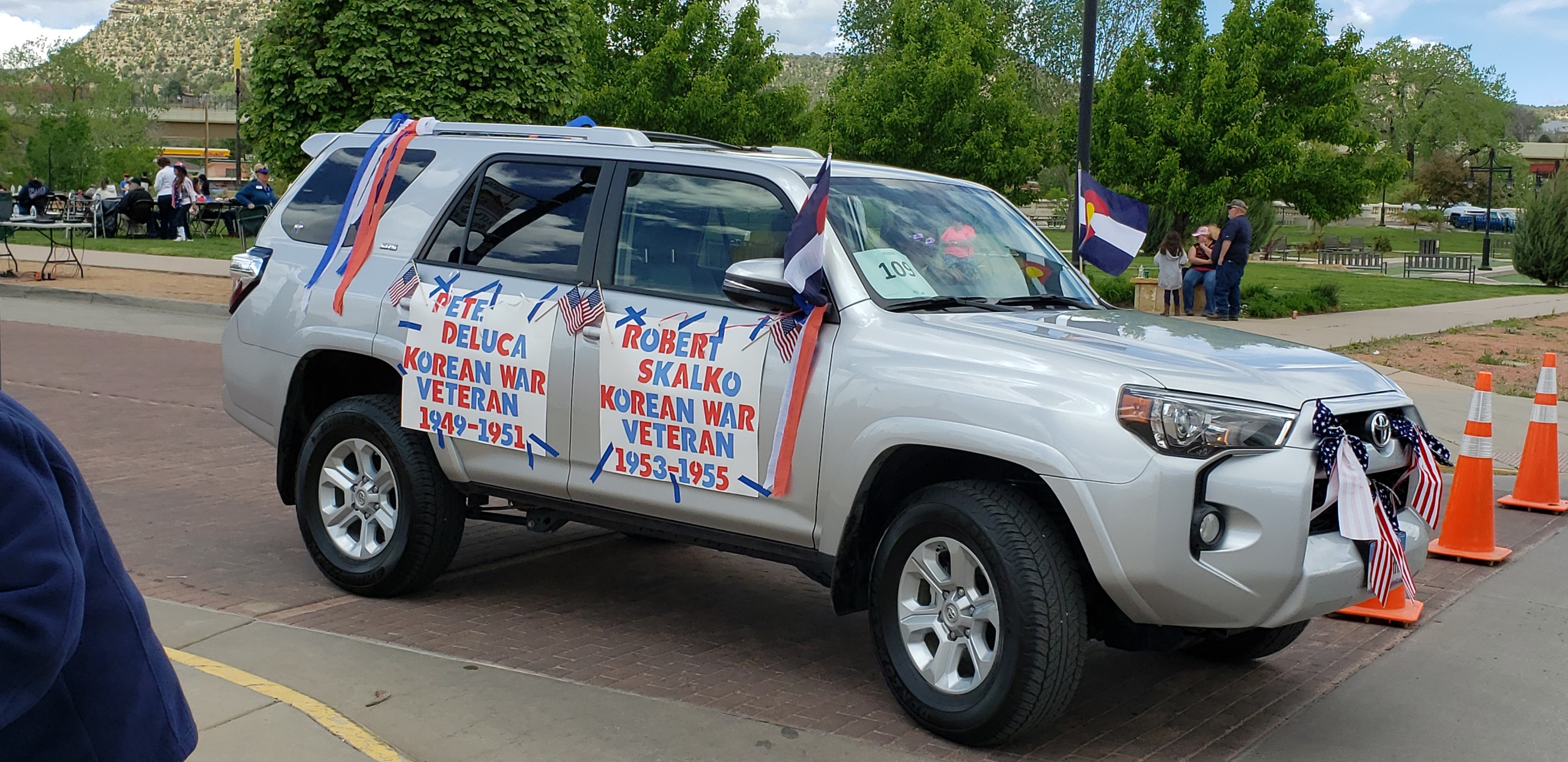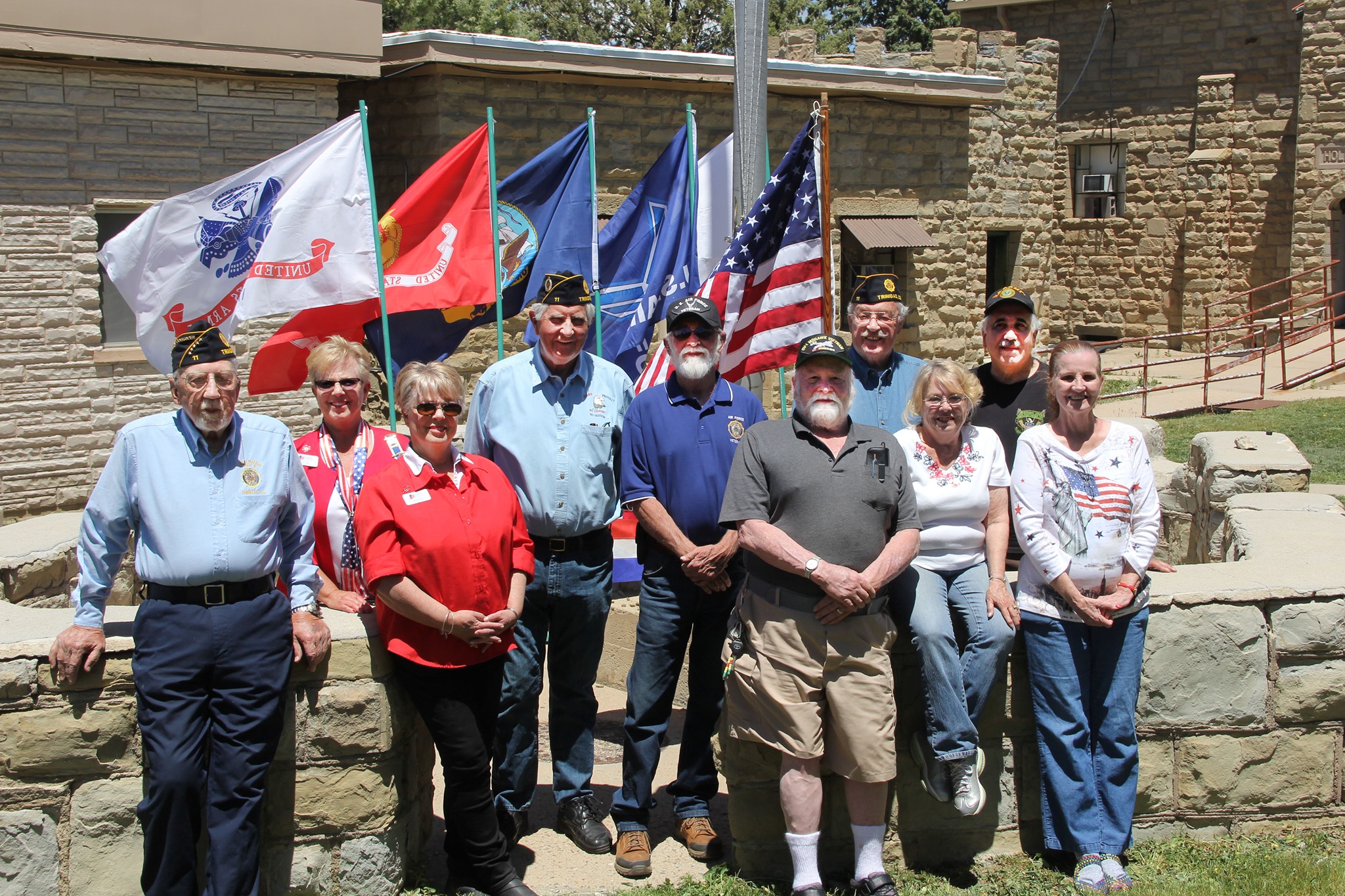 2019 DAR Good Citizens
2019 Good Citizen Awards Ceremony & Brunch, Held Saturday, February 9, in Sullivan Center of Trinidad State Jr. College, Trinidad, CO. Visiting State Regent, Jeannine Dobbins, presented What Is Good Citizen? MC's of event were chapter Regent, Rose and Lori, chapter Chaplain. 4 Good Citizens from local Las Animas County high schools. Esteemed Judges, four Good Citizen Senior Students, families, friends, school faculty, and a delicious spread for the Brunch. Congratulations to this year's 2019 Winners!

2017-2018 Activities
2014 DAR Medal of Honor Award
The Santa Fe Trail Chapter, NSDAR nominated the "Blown Up Guy," Brian Fleming, for the DAR Medal of Honor. The following was presented at the Patriotic Military Awards Banquet of the Texas State DAR Conference in Dallas on March 8, 2014.
Presentation of Medal of Honor Award at Texas State Conference
by 2013-2015 Colorado State Regent, Marcy Storlie Kimminau
March 8, 2014, Dallas, Texas
The DAR Medal of Honor is awarded to Brian C. Fleming a resident of Celina, Texas, recommended by the Santa Fe Trail Chapter of Trinidad, Colorado.
Brian began his adult life serving as a team leader in a Scout/Sniper Platoon with the U.S. Army's 10th Mountain Division. He was blown up twice while fighting the war on terror and sustained multiple life-threatening injuries from the savage attack of a suicide bomber who exploded three feet away from him on July 24, 2006, in Afghanistan. After enduring reconstructive surgery and fourteen months of rehabilitation at Brooke Army Medical Center in San Antonio, Texas, he took a situation that was intended to kill him and turned it into a life-changing enterprise that empowers lives. Brian is the founder, president, and CEO of Fleming Continuing Education Programs and Warrior Culture Ministries, a non-profit organization. He has written seven books proven to be powerful resources for military and civilians. A leading authority on overcoming challenges and prospering through adversity, he has helped developed curriculum for veterans' programs. His first-hand post-traumatic stress experience has made him a role model. He is a PTS strategist and is one of the top military resiliency Trainers. Brian is a strong veterans' advocate and through Fleming Continuing Education Programs, he set up the "Mentorship Program" where support is provided in business, marriage and family, faith, life skills, and how to effectively overcome post traumatic stress. His "We Salute You" campaign raises money to deliver free of charge copies of Brian's books to military bases. His current #1 best selling book, REDEPLOYED: How Combat Veterans Can Fight the Battle Within and Win the War at Home, has helped thousands of our military men and women. When Brian shows up at airports and bases to hand deliver free books to our troops, they see and hear from someone who is just like them. They know these books are America's way of saying, "Thank you."
2013 – "Women on the Trail" Exhibit Grand Opening
The Santa Fe Trail Chapter, NSDAR celebrated the opening night of the "Women on the Trail" exhibit which ran in conjunction with the Smithsonian Institution Museum's exhibit "Trail" from May through September, 2013, at the A.R. Mitchell Museum of Western Art in Trinidad, Colorado. The chapter created an entire wall of documentation, artifacts, their ancestors, and different cultures who traveled the Trails west. Chapter members also put together a fire-side encampment which was typical of that era, including historical music and sounds of the trail life.
2012 – Trinidad, Colorado Farmers Market
Chapter Booth
The Santa Fe Trail Chapter, NSDAR had a booth at a local farmers market on September 1, 2012. We had photo boards, DAR brochures, and a bake sale. All were successful.
2011 – Trinidad, Colorado Labor Day Parade
Chapter's Award Winning Float
First ever float entry by the Santa Fe Trail Chapter, NSDAR. These pictures include the building and deployment of the float including winning the Sweepstakes Award for Excellence in Design and Decorations!